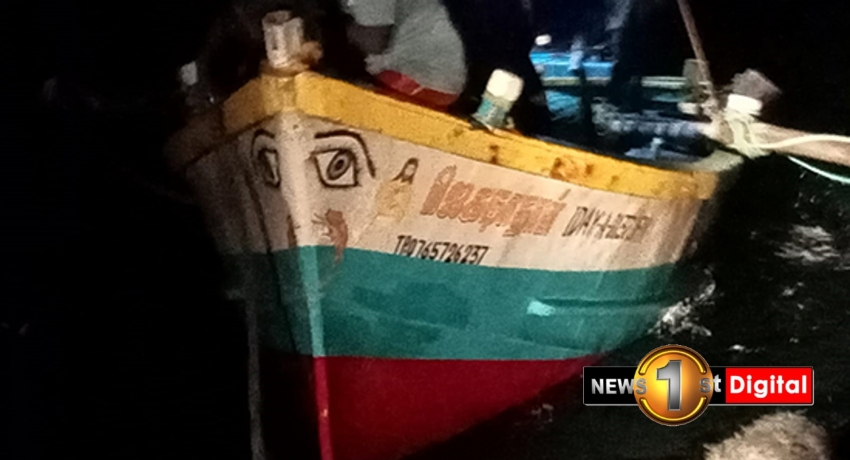 Indian trawler sinks into local fishing boat in Sri Lanka Sea
COLOMBO (New 1st); The Sri Lankan Navy assisted a local fishing trawler and its fishermen after it was badly damaged after striking an Indian poaching vessel in Sri Lankan territorial waters on December 15, 2021.
The Sri Lankan Navy has carried out regular operations to prevent illegal bottom trawling practices from Indian poaching vessels entering Sri Lankan waters. After observing around 200 Indian poaching vessels in Sri Lankan territorial waters off Kachchativu Island and Kovilam Lighthouse on the evening of December 15, the Sri Lankan Navy mounted a special operation by deploying two vessels. attached to the Northern Naval Command to drive these poaching ships out of island waters.
These illegal fishing activities by Indian fishermen are causing damage not only to Sri Lanka's marine environment, but also to the fishing boats and equipment of the local fishing community.
On the night of December 15, a Sri Lankan Navy vessel patrolling the seas south of Delft Island spotted a local fishing trawler (Reg. No. 1DAY-A-0137-JFN) in distress afterwards. that an Indian poaching vessel collided with it, causing severe damage to the flat area of ​​the tiller of the local vessel.
In addition, its propeller was also badly damaged by a tangle of ropes and nets from Indian poaching vessels. As a result, the Navy vessel arranged to send the distressed fishing vessel and its 02 fishermen ashore with the help of another nearby fishing vessel. It is reported that no injuries were caused to the 02 fishermen in this collision in the open sea.
The Sri Lankan Navy will continue to patrol the island waters with a view to preventing damage to Sri Lanka's marine environment by the poaching of Indian vessels through illegal fishing practices and to protect the livelihoods of the local fishing community.