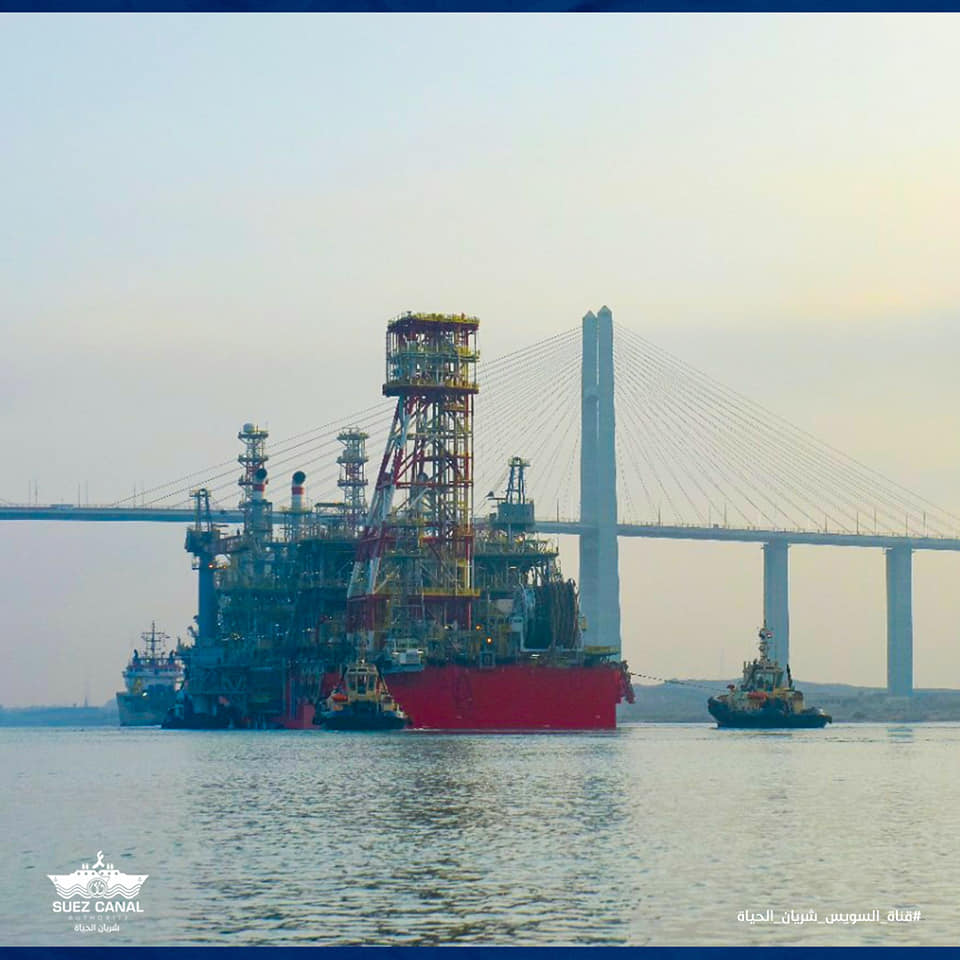 Video: The last FPSO unit crosses the Suez Canal in 26 hours
The head of the Suez Canal Authority in Egypt, Osama Rabie, announced on Friday that the first crossing of its kind in the history of the canal for a floating unit for the production, processing and storage of liquefied natural gas – Floating Production Storage Offloading (FPSO) – was a resounding success.
ENERGEAN POWER, the latest model of its kind, crossed within the southern convoy towed with four tugs belonging to the authority and guided by a team consisting of a group of high-level guides from the authority and tugs during its first voyage at sea after its inauguration in Singapore, heading for the Mediterranean Sea.
The crossing process of the ENERGEAN POWER unit of Energen International marked an unconventional crossing experience, being the largest unit that crossed the towed channel with a draft of over 18.5 meters.
A statement from the Suez Canal said the unit's crossing required complex navigational arrangements and measures over several days.
The statement pointed out that the floating unit is 227 meters long, 59 meters wide, with a total load of 92,680 tons and a height of 69.5 meters from the water surface.
The unit relies on towing only to steer and move it, the statement adds, which requires considering the accuracy of guidance with tugs and studying the movement and direction of winds and currents. water to maintain their position in the middle of the channel during its journey.
The arrangements and procedures for crossing the canal started with the request of the shipping agency GULF EGYPT to cross the ENERGEAN POWER unit to the Suez Canal.
Rabie led the review of the request by the authority's navigation experts, and held several meetings at the authority's Naval Simulation and Training Center, alongside the logistical procedures for fueling the two BOSKALIS tugs accompanying the unit.
The crossing inside the canal took about 26 hours.
Preparations for the crossing required the work of a set of naval maneuvers to test the appropriate speed and determine the impact of waves and wind speed, so the floating unit began crossing at five o'clock in the morning. morning Thursday from the draft of the Suez until its exit from the canal on Friday at noon.
Edited translation of Al-Masry Al-Youm